Welding Fume Extractor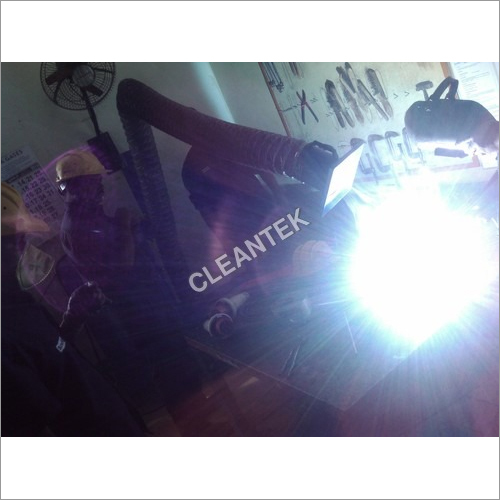 Welding Fume Extractor
Product Description
Being a quality-centric organization, we are encouraged by our clients to manufacture, export and supply Welding Fume Extractor. The offered extractor is widely used in various industries for filtering air. By making use of supreme quality components, this extractor is manufactured at our advanced production unit under the supervision of our adept professionals. Before delivering it to the clients, the offered extractor is checked thoroughly by our quality checkers on various parameters to ensure its flawlessness. We assure our clients that provided Welding Fume Extractor is deliver within committed time frame.


We offer Welding Fume Extractor with suction arm to effectively collect dust particles & fumes. It is manufactured as per the global quality standards. Extraction through suction arm ensures safety of human resources and good health, by removing the welding smoke. In addition, the Welding Fume Extractor keeps production machine and product contaminant free.


How welding fumes can affect your health?


If you breathe in gases, fumes & vapors etc. in large quantities, over the years, your health will suffer. Exposure to welding fumes produce several health effects:


Shortness of breath
Fluid in lungs (edema)
Inflammation of lungs (pneumonitis)
Loss of appetite
Bronchitis
Coughing
Cramps
Irritation of the eyes, nose & chest

Other health problems related to welding fumes:


Hearing loss
Skin diseases
Kidney damage
Heart disease
Gastritis / ulcers of the stomach


At Cleantek, we design & manufacture Welding Fume Extractors in various capacities. Our machines cleanse the hazardous welding fumes up-to 99%, and circulate pure air. Also, we are supplying 3D articulated swing arm, 3.5 meter length, for easy fumes capture.


Models:


Stationary Fume Extractor
Portable Fume Extractor
Wall-Mounted Fume Extractor


How It Works:
In welding fume extractor, unclean air is drawn by the suction motor, and move energetically through the washable stainless steel mesh filter, which hold the large dust particles. Then, the air goes through fine filter fabric, where the fine dust particles are filtered. Residual air stream passes into the strong electric field, where particulate takes an electrical charge. Then, the charged particles pass into a collector plate unit which is made of a sequence of equally spaced parallel plates. Every alternate plate is charged with similar polarity (6 Kv to 7Kv) as the particles; while attract as well as collect the contaminants, they repel. These plates hold the contaminants until they are washed away. Additional air pass into the gas stage activated carbon filter. Here activated carbon absorbs the toxic gases. Then pure air sent out through the exhaust line to the atmosphere.


Key Features:


Mobile Welding Fume Extractor with Electrostatic Precipitator, ideal for welding fume filtration uses.
Movable arm that can be set in any position of three -dimensional space; workers can perform more efficiently.
Easy to move & maintain.
Perfect for continuous, trouble-free working.
CE approved, energy efficient induction motor.
High suction airflow rate and purifying efficiency.
Electronic panel board for warning of Filter cleaning stage.
Helps maintain pollution-free atmosphere.
Improved productivity and reduced maintenance.
Easy to clean multi stage filters, spark arrester and electrostatic filter.
Rugged design
Less power consumption
Highly efficient
Low maintenance cost


Applications:


Welding fume filtration / welding fume destroyer system.
Robotic welding fume extraction.
Soldering pot fume filtration.
Laser fume filtration.
Dust, hazardous fume filtration.
Medical lab gas, dust, fume filtration.
Pharmaceutical lab dust filtration.


| | |
| --- | --- |
| Applications | Features |
| Welding fume Filtration | Mobile / Stationary models available |
| Soldering fume Filtration | Easy moveable flexible suction Arm |
| Laser Fume Filtration | 99.9 & % HEPA filter options |
| Hazardous Fume / Dust Filtration | Easy replace /Clean the filters |
| Medical Lab Gas / Fume / dust Filtration | 3 stage filtration |
| Pharma lab dust filtration | Improves productivity and reduce maintenance |
| | | |
| --- | --- | --- |
| Parameters | Model FE 300 | Model FE500 |
| Motor Power | 2.2 Kw | 3.7 Kw |
| Airflow | 1900 m3/Hr | 2200 m3/Hr |
| Vacuum | 200mm of Wg | 300mm of Wg |
| Filtration Stage | SS Spark Arrester, Pre filter, Activated carbon filter, Electrostatic filter | SS Spark Arrester, Pre filter, Activated carbon filter, Electrostatic filter |
| Version | Portable model with brake wheels | Portable model with brake wheels |
| Suction hose diameter | 150mm | 150mm |
| Filtration efficiency | 99.90% | 99.90% |
| Insulation class | F | F |
| Motor Protection | IP 55 | IP 55 |
| Overall Dimensions | 600x610x1300 | 610x610x1300 |
| Weight | 125kg | 149kg |
Trade Information
South India

ISO 9001:2008