Wood Dust Collector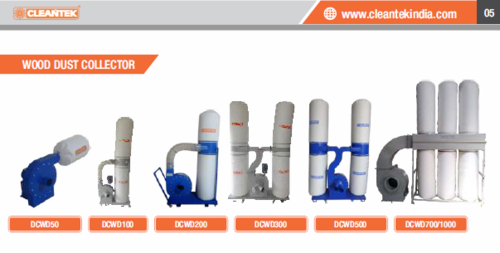 Wood Dust Collector
Product Description
Wood Dust Collector:
Wood Dust Collector is an apt solution for different industrial processes. It can remove airborne pollutants in the sort of fumes, vapors, dry particles, or fog. Removal of all toxic contamination is ensured. This is apt to be used at unsafe work environment. Also, it is functional as an appropriate industrial air purifying system, which can solve all air quality issues. It is popular as an economical air pollution control solution. This is suited for a wide variety of industrial mist collection as well as dust collection applications. Its filter is provided with chains and coupling, which enable effortless removal.
Wood Dust collectors are used in woodworking applications to capture wood dust and other particulate matter generated during cutting, sanding, and routing operations. This helps to improve air quality in the workshop and reduce the risk of fire or explosion.
Applications :
1) Applicable for Abrasive Blasting, Carbon Black, Cement, Chemicals, CNC Machining etc.
2) Also suited for Coal-Fired Boilers, Cold Heading, Die Casting, Food Processing, Metalworking, Pharmaceutical etc.
3) Suited for Plasma and Laser Cutting, Plastics Processing, Powder Plant, Utility etc.
4) Apt for Waste-to-Energy, Welding, Woodworking, Custom or OEM applications.


Wood Dust Collector Technical Specifications:
PARAMETERS

DCWD100

DCWD200

DCWD300

DCWD500

DCWD700

DCWD1000

DCWD1500

HP

1

2

3

5

7

10

15

Volts/Hz

415/50

415/50

415/50

415/50

415/50

415/50

415/50

Airflow in m3/Hr

1100

1850

2200

3200

6000

7500

10000

Speed in RPM

2880

2880

2880

2880

2880

2880

2880

Suction inlet size in mm

100

125

150

200

300

350

400

Number of Filter Bag

1 Pair

2 Pair

2 Pair

2 Pair

4 Pair

4 pair

4 pair

Suction inlet mm

100

100

2 X 100

4 X 100

4 X 100

4 X 100

4 X 100

Type of motor

Flange Mounted

Bed Mounted

Bed Mounted

Bed Mounted

Bed Mounted

Bed Mounted

Bed Mounted

Motor Protection

IP55

IP55

IP55

IP55

IP55

IP55

IP55

Weight in kg

35

40

50

175

350

375

375

Overall Size

L X W X H in mm

1000 X 500 X 1305

1502 X 645 X 1358

1568 X 655 X 1486

1658X 658 X 1515

2400 X 1200 X 2510

2400 X 1200 X 2510

2500 X 1300 X 2510

Insulation class

F

F

F

F

F

F

F